A full body workout without gym membership fees!
The Marcy Olympic Bench provides you with several options for getting a full-body workout. Behind the bench lies a squat station where you can easily rest the barbell between reps. Use this space for other exercises like a shoulder press and standing barbell curls. The back pad and seat pad operate on a slide track and height adjustment rod. These micro-adjustments help pinpoint the muscle groups you'd like to target. Additionally, the preacher curl pad allows you to work your arms with the curl bar. All three of these stations can be combined with your favorite dumbbells, barbells, and weights to give you even more exercise options.
LOWER BODY & CORE WORKOUT
When focusing on a lower-body workout, you can't go wrong by starting with the squat station. Barbell lunges, squats, and barbell step-ups are just a few options to explore. Keep in mind that the back pad can be set to a decline position, allowing you to tackle some core exercises. When you're ready, finish off with some leg extensions and leg curls on the leg developer.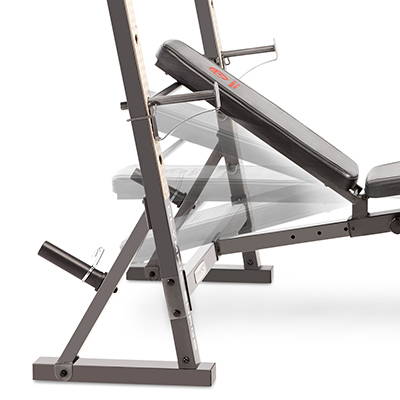 The seat and back pad operates on a 5-position slide track that places you in various incline, decline, flat or military positions. By positioning the bench for natural movements during upper body exercises, you help increase the effectiveness of your workout and reduce the risk of injury.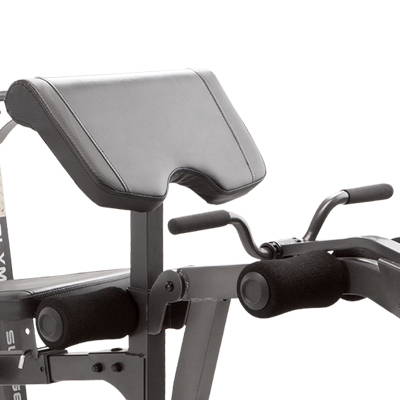 Use the preacher curl pad along with the arm curl handle to take better aim at your biceps. The arm curl bar at the top of the leg developer is a bonus, so you don't need to worry about buying extra barbells, just a weight plate. When you move to bench workouts, remove the preacher curl pad for added space for movement.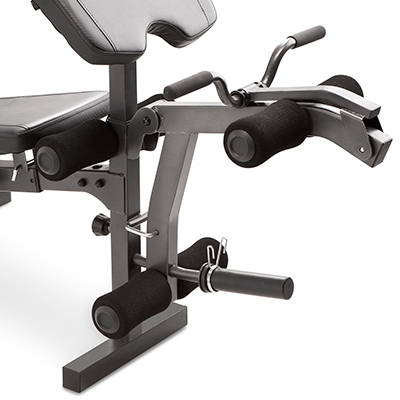 Dual-Function Leg Developer
Dual-function leg developer with pivot point aligns with the knee joints and a locking mechanism for abdominal exercise. This feature facilitates proper body posture and allows for maximum effect on targeted muscle groups. For example, the lower set of contoured leg rollers are for leg extensions that work quadriceps, and the higher set of rollers are for leg curls that work hamstrings and glutes.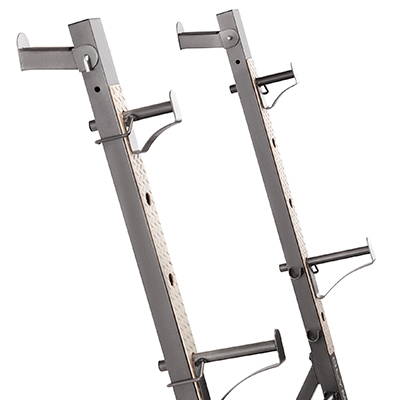 Bar Catches and Safety Catches
One of the unique features of this weight bench is the inclusion of two adjustable bar catches. The set on the rear of the frame gives you space and freedom to perform squats. The front of the frame also includes two adjustable safety catches for added security during weight bench exercises.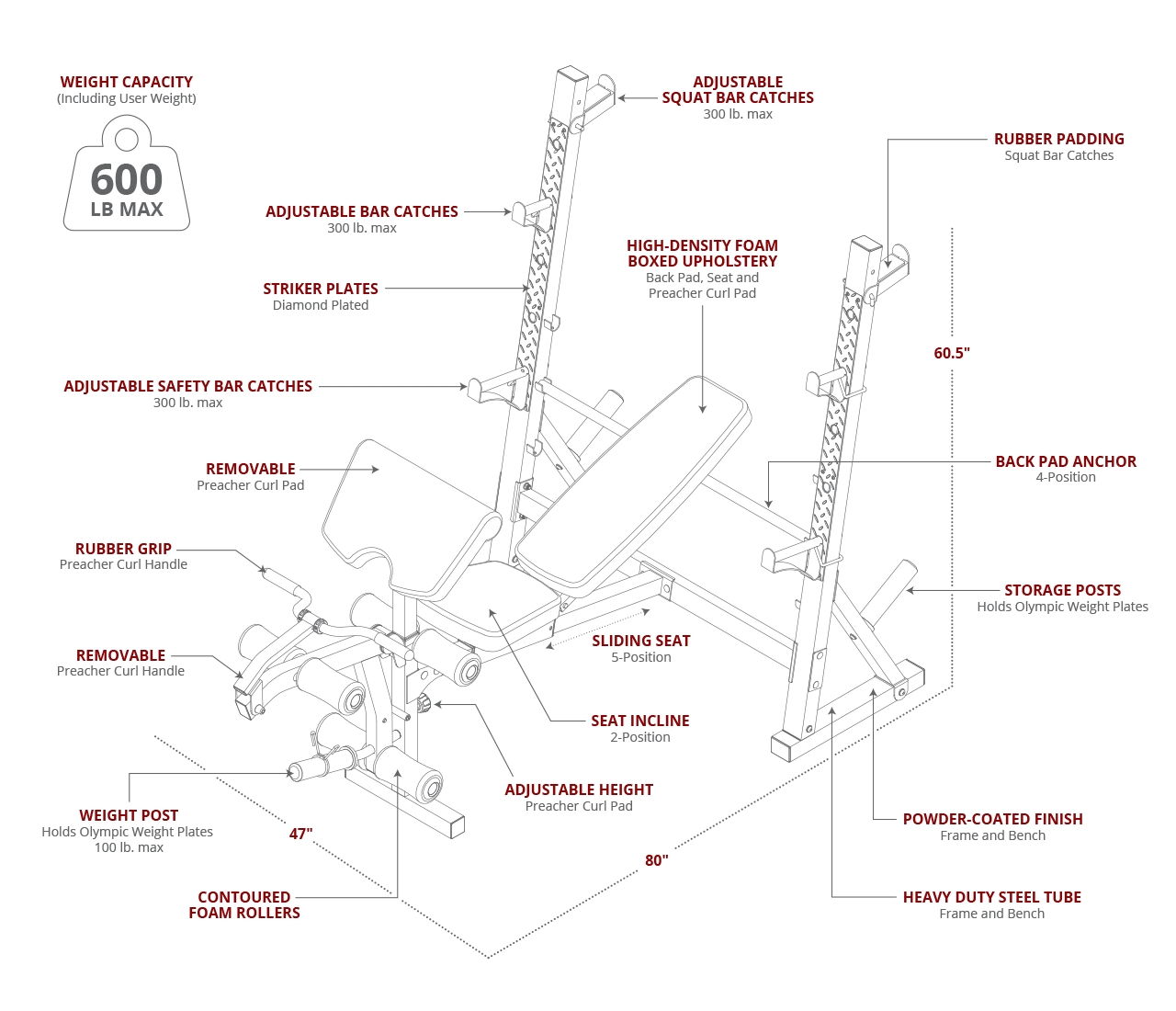 "I will start by saying that it was a great surprise to have the item delivered sooner than expected. Assembling it took a little less than 2 hours. It is definitely possible to assemble it yourself but a second set of hands can make it faster and easier. The instructions made it very easy to assemble as well. I have had it now for a little over a month and this definitely exceeded my expectations given the great low price. There was one small defective part (bar catcher) but it was so easy to get the replacement part shipped to me free of charge. Marcy provided the best customer service experience for me. The pride themselves in making sure that every customer is 100% satisfied with their product. And if that wasnt enough, Marcy offers a free 2 year warranty on this product. That is so amazing! I have already recommended this MD-857 setup to friends and family. And I will continue to do so. Thanks Marcy for the great experience! Merry Christmas!"
Eliezer - Dec 10th, 2020
"Well constructed bench, great attention to detail on the design as well as manufacturing. Packaging protected the product very well. Simple instructions with all hardware easily laid out for the user to see in the assembly instructions."
Alexander - April 5th, 2021
"Wow! What a well made, strong, and beautiful piece of equipment. As we all experienced at the first of the pandemic, vultures swooped in and bought all of the weight benches and were selling them like they were scalping concert tickets. With a bit of bad luck with other sellers (shipping cheaper and far inferior items than purchased and then offering a pittance to keep them) I finally went to the Marcy site to see if there had been any change in availability, I found my dream bench! I had absolutely no problems in assembling it, and it is Sturdy as a Rock! I also appreciate that they limit purchase of one per customer. That filled my heart.
If you are considering this machine...DO IT!"
Billy V - February 5th, 2021